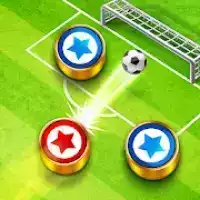 Soccer Stars
Rating: 4.00 (Votes: 1)
It's the last minute of the game and your opponent has the ball… but he's lost it! What a chance to score the winner… you take aim, shoot… GOOOOOOAAAAAALLLLL! With simple gameplay and great physics, Soccer Stars is easy to pick up and fun to play! In true competitive style, challenge your opponents all over the world for online table soccer matches!
Compete in different tiers, from different countries! Play online against people from all over the world or against your friends! Login with your Facebook account and challenge your friends to show them what it means to be a Soccer Legend and take the cup home! Oh, and you can also play offline against a friend in the same device!
You can also customize your Soccer Stars experience by collecting the different teams! Show off your style and defend your nation's colors!
What are you waiting for? Everyone else is already playing Soccer Stars! Don't miss out on this chance to have tons of fun!
KEY FEATURES:
- Online and offline multiplayer game
- Simple and fun gameplay
- Amazing ball physics
- Online tournaments against players from all over the world
- Play against your friends
- Collect different teams and cups
Based on 1 Votes and 0 User Reviews
Other Apps in This Category