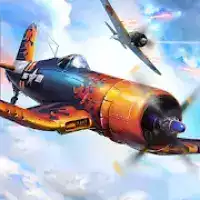 War Wings
Rating: 4.00 (Votes: 1)
Download one of the top free war games and prepare for combat! Climb into the cockpit of your fully customisable World War II warplane and get ready for take-off - your mission is about to begin! Take to the skies and join the battle in epic WWII dogfights! Be an ace pilot! Fly solo as a lone wolf or team up with your squadron to control the skies in intense PVP multiplayer games and battles. An epic combo of airplane stunts action and an exhilarating shooting game. Pull off gravity-defying stunts and tricks, get the enemy in your sights and hit the trigger to shoot them down. It's life or death up there, and only the bravest and most skilled pilots survive!
War Wings lets you fly into the heat of the action in multiplayer PVP dogfights. Play with friends and compete against millions of players worldwide. Destroy enemy squadrons and climb the global leaderboards. Show the world that you own the skies!
**********************************************************************
""GOLDEN CUBE"" AWARD FOR BEST GAME – Unity
BEST NEW GAME - Mobile Developer Conference (HK)
MOST INFLUENTIAL GAME - Metro Media
BEST ORIGINAL MOBILE GAME - Mobile Developer Conference (HK)
**********************************************************************
FEATURES
- Epic 4v4 real-time online multiplayer PvP dogfighting
- A life-like combat game experience: planes and weapons with realistic damage
- Deck out your WWII warplane: rich customization allows different tactics and strategies
- Huge selection of World War II aircrafts to choose from: 70+ customizable models
It's time for battle with one of the best free games in the world! The skies are waiting.
────────────────
Play War Wings with friends!
────────────────
Like us on Facebook! http://www.facebook.com/PlayWarWings
Any questions or need support? https://miniclip.helpshift.com/a/war-wings/
Based on 1 Votes and 0 User Reviews
Other Apps in This Category