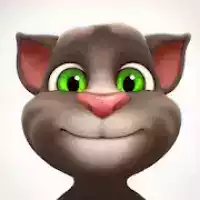 Talking Tom Cat
Rating: 4.00 (Votes: 1)
Drumroll, please. Meet the star... The one and only... Talking Tom! He's the original virtual pet who talks back! Download the free game and join more than 580 million players all over the world having fun with Talking Tom, one of the most popular free games for the whole family. Talking Tom Cat lets you play with Tom, talk with Tom, and laugh with Tom. The amazing fun never stops!
You can even feed him – he'll eat everything from chili peppers to watermelons. Just watch out for what happens when he eats too much and starts farting… It's hilarious!
Don't miss out on all the fun you can have with Talking Tom! Download the app and play with the original Talking Tom Cat now. He's the best!
TALK TO THE LEGEND
- Talk to Tom and he will repeat what you say.
- Laugh out loud at Tom's funny voice.
- Record funny videos of Tom talking and share them with your friends.
PLAY WITH TOM
- Poke Tom's head until he sees stars.
- Pet Tom to make him purr with happiness.
- Make Tom fart for a hilarious, smelly situation!
FEED HUNGRY TOM
- Treat your cute virtual pet to his favorite foods!
- Give him spicy chilies and watch what happens.
- Hand him ice cream for an icy surprise...
Tom has even more fun reactions to discover! Do you think you can find more than your friends? Watch out for the "bubbly burp" – it's Tom's latest animation eye candy!
Talking Tom Cat is brought to you by Outfit7, the makers of My Talking Tom, Talking Tom Gold Run, My Talking Angela, and loads more games that players around the world love! So don't wait! Play all of Tom's games!
Download Talking Tom Cat now!
This app is PRIVO certified. The PRIVO safe harbor seal indicates Outfit7 has established COPPA-compliant privacy practices to protect your child's personal information. Our apps do not allow younger children to share their information.
This app contains:
- Promotion of Outfit7's products and advertising;
- Links that direct customers to Outfi7's websites and other apps;
- Personalization of content to encourage users to play the app;
- Videos of Outfit7's animated characters via YouTube integration; and
- The option to make in-app purchases.
Terms of use: http://outfit7.com/eula/
Privacy policy: http://outfit7.com/privacy-policy/
Customer Support: support@outfit7.com
Based on 1 Votes and 0 User Reviews
Other Apps in This Category