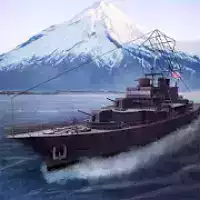 Ships of Battle : The Pacific
Rating: 4.00 (Votes: 1)
READY FOR VASCOGAMES FREE TO PLAY NAVAL SIMULATOR ON ANDROID?Dive into beastly warships use them during great naval battles that history denied them. Ships of Battle: The Pacific is one of VascoGames finest wargames, select the ship that you like. And dive into heavy metal slugging battles where you can test your tactical skills as a battleship captain. Ships of Battle: The Pacific gives you World War II era naval combat on your device. Every different ship has their own unique set of weapons and upgrades. Carries, cruisers, battleships and destroyers they all have an important olle to play in this free to play
DEAD FROM ABOVE, IT'S FULL OUT NAVAL WARFARE
Ships of Battle: The Pacific is an naval arcade simulation game, in which you can become captain of a battleship and engage in exhilarating naval combat within the pacific during the second world war. It offers loads of different battles fought between the American navy and their allies against the forces of the japanese empire. Employ an arsenal of weaponry, from torpedoes to airstrikes, manipulate the battlefield tactically and take command of the seas. Every Ship has different modules that can be improved in your harbor.
SHIPS OF BATTLE: THE PACIFIC GAME FEATURES
- A real 3D Naval Action experience for young and old.
- Explore the world of naval combat during historical correct world war II pacific battles.
- Extremely addictive gameplay from start to finish in this battle ship simulator game.
- This world war II pacific battleship simulator has smooth and simple ship control systems to choose during battle
- A big varied of powerful weapons that could be used in any naval battle situation!
Facebook - https://www.facebook.com/VascoGames
Twitter - https://twitter.com/VascoGames
YouTube - http://goo.gl/HChVVx
Based on 1 Votes and 0 User Reviews
Other Apps in This Category